Cutting aid for power saws
Simple handing thanks to magnets
Online since: 08/05/2017, Number of visits: 295799
Cutting aid in forestry
In order to cut tree trunks and branches to the same length, a cutting aid is often used in forestry.

With the standard models available in stores, they have to be screwed to the saw. This ensures that the cutting rod is safely in place, but it also makes it hard to attach and remove.
Materials needed
1 x treaded bar M5 in desired length
2 x locking nuts M5
1 x wing nut M5
2 x washers ∅ 2 cm / hole ∅ 6 mm
1 x aluminium disc ∅ 7-8 cm
1 x drill ∅ 7 mm
Drill a 7 mm hole in the middle of the aluminium disc, and for better visibility, paint the disc with fluorescent paint.
If you want to see the magnetic cutting aid in action, watch the following video: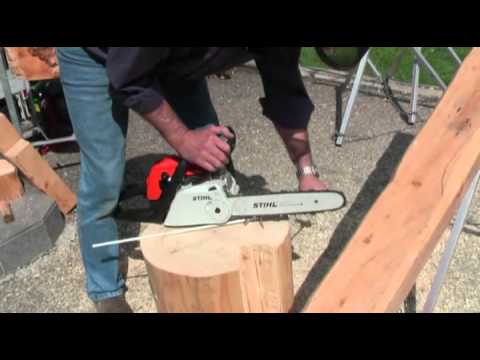 Note from the supermagnete team: When handling power saws, it is important to adhere to the necessary safety measures. We cannot guarantee the secure hold of magnets on power saws.
The entire content of this site is protected by copyright.
Copying the content or using it elsewhere is not permitted without explicit approval.