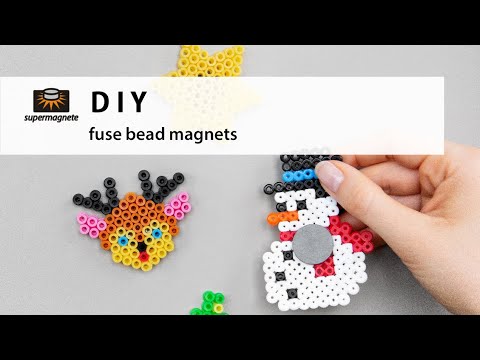 Materials needed
Fuse beads in different colours
Pegboards
Ferrite disc magnets – we used type FE-S-20-03 magnets
Parchment paper
Iron and ironing board (or other heat-resistant surface)
These fuse bead magnets are very easy and quick to make. Start by choosing a suitable design. You can find countless patterns on
Pinterest
, for example. Once you decided on a design, arrange the fuse beads on the pegboard according to the chosen pattern. The next step should only be completed by an adult because the iron and the ironed beads can get very hot.
Place your fuse bead design on an ironing board or other heat-resistant surface and cover the fuse beads with parchment paper. Set the iron to a medium temperature, ideally between 130 and 150 degrees. Next, move the iron over the fuse beads using circular motions and light pressure. Stop once the colours of all beads show more vividly through the parchment paper. Carefully remove the parchment paper and let your design cool. It is best to place a book on top of larger pieces to prevent them from bending out of shape while cooling.
As the last step, place a small amount of UHU adhesive on a ferrite magnet and press it firmly onto your fuse bead design. Let the glue dry for at least one day before using the fuse bead magnets. These colourful magnets look great on a refrigerator,
magnetic boards
or
magnetic bars
.
In our handicraft guide, you will find many more useful tips and tricks for making your own magnets.
Go to handicraft guide