Graphite surfer
Paper racer flies over magnetic tracks
Online since: 01/02/2016, Number of visits: 289071
At breakneck speed this death-defying cyclist flies over a 'half pipe' of magnets - without touching the magnetic track! How is that possible?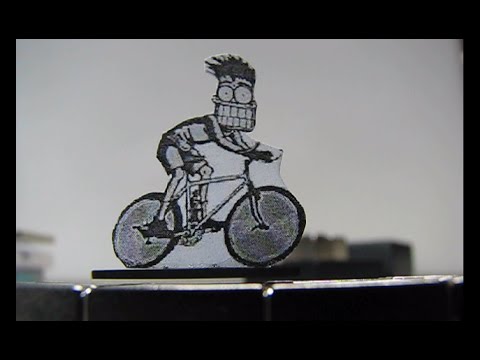 This fun experiment is easy to replicate. You only need a few neodymium magnets and a pyrolytic graphite disc.
You can use magnets of different shapes and sizes. I used block magnets
Q-15-04-04-MN
because they have an important feature - their magnetic field runs perpendicular to the side with the measurements 4x15mm.
Different sizes are also possible for the graphite disk. I used the disc of the DIALEV (no longer available at supermagnete.pt) - it measures 20x20x1 mm. At first, I played a little bit with the DIALEV itself before it was the half pipe's turn.
Instructions for the half pipe
For building the upward-bent track pieces glue small strips of adhesive tape in between the magnetic discs, so they don't separate from each other.

If the graphite disc doesn't stay steady on the magnetic track, it means the track is not entirely even. Slide small paper strips underneath to lift up the lower part of the track.
The entire content of this site is protected by copyright.
Copying the content or using it elsewhere is not permitted without explicit approval.