Iron filings in the water
Visualising magnetic field lines in 3D
Online since: 08/11/2016, Number of visits: 475033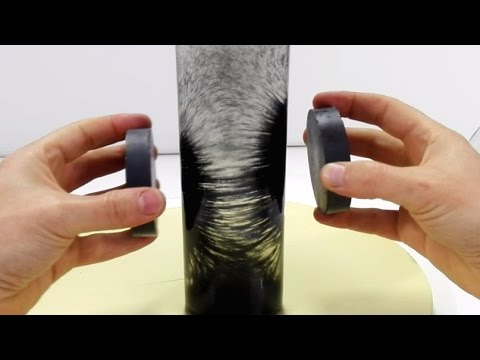 This experiment visualises magnetic field lines in 3D.
We have all played with iron filings in our youth and made them move over the table. That gives you an idea of the shape of a magnetic field. If you put iron filings into a fluid, however, you can see the shape of the magnetic field even better. Why? The fluid slows down the iron filings, which helps observe the magnetic field lines much better.
Clean iron filings
Finally, I put the iron filings into water to clean them. It is easy to separate the iron filings from dirt: Just shake the glass and place a magnet to the bottom side. The dirt stays in the water and can easily be removed. The iron filings stay on the glass bottom. I recommend at least 10 repetitions.
Showtime!
Now we need a bottle that should be transparent, tall and narrow.

Fill the bottle with water, put the cleaned iron filings into it and seal the bottle.

If you have a nice collection of

neodymium magnets

, now is the time to take them out to observe the form of their magnetic fields. In my case it's small block magnets, two large ferrite magnets and a ring magnet (connected below).
Note from the supermagnete team:
Using oil is very similar to our product
ferrofluid
. We published several applications on that.
You can also use our
iron filings
instead of making your own, but they may really sink too fast.