Magnetic boutonnière
Find out how useful magnets can be at a wedding
Online since: 11/03/2019, Number of visits: 139066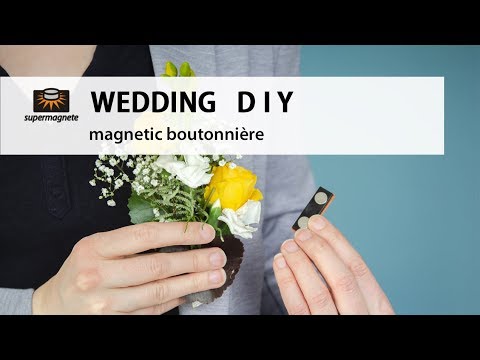 Corsage flowers are traditionally worn in the buttonhole or attached to the suit with pins. A clever alternative are magnets. They allow for flexible attachment and removal of the boutonnière without causing damage to clothes. We will show you suitable magnets for this application and what you need to bear in mind.
The quick solution for attaching a boutonnière to a buttonhole is our
name badge magnetic
. The large self-adhesive film of the counterpart provides a firm hold even with small flower arrangements. However, as shown in this example, a wooden stick must be integrated into the bouquet as a smooth adhesion surface. The two strong magnets are embedded in plastic and thus protect the clothes.
As an alternative, two sufficiently strong
disc magnets
can also be used to attach corsage flowers. One of the magnets is attached to the flowers with florist tape. A second magnet acts as a counterpart to attach the boutonnière to the suit.
Please note that people with pacemakers must maintain certain safety distances from magnets. Further information can be found in the FAQ on "
Safety distances
".
The magnetic boutonnière can also be used as wonderful table decoration, especially if the flowers are somewhat larger. Thanks to the two magnets the wedding pin can quickly and easily be attached to a vase or to other magnetic surfaces. By doing so the flowers can be turned into table decorations and vice versa with no effort. Wedding guests can attach the boutonnière to their clothes, handbag or hat.
More ideas for magnetic wedding decorations can be found here: