Magnetic clocks
The analogue clock without clock hands
Online since: 12/01/2012, Number of visits: 327067
MagicTime - Clock without clock hands
As if by magic two spheres rotate on a glass front and tell time in a new fashion. Hours and minutes are represented in two spheres of different sizes, which make you curious and want to touch them.

MagicTime is handmade in Switzerland in small batches in the colours black and white. Meanwhile, the production has been suspended.
The small sphere (outside) represents the minute hand and the large sphere (inside) the hour hand.
The spheres are hollow spheres made of ferrite, which are very light and magnetic.
Note from the supermagnete team: Unfortunately, such hollow ferrite spheres are not available from our shop. If you want to replicate this clock, please research online where you can order these spheres.
Inside the clock the ends of two balanced hands are equipped with magnets: Block magnets
Q-10-05-01-G
or
Q-10-05-1.5-G
for the minutes and disc magnets
S-09-05-N
for the hours.
On the backside, 4 disc magnets
S-12-01-N
fasten the enclosed pair of reserve spheres.
Flux detektor clock - minimalistic clock
A real alternative to the clock above is this flux detector clock from our customer Robin. You'll need:
2 rod magnets S-06-10-N
Clock mechanism
Acrylic glass panel
The following video (in German) shows the step-by-step assembly.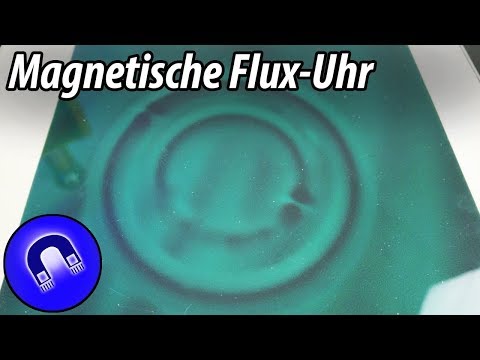 Wooden clock with magnetic clock face
Addition by customer Jean Pierre Bonne from Marseille:

I love working with wood and I am happy every time I find a way to integrate magnets into my work. This is how I came up with this clock that has small

S-05-02-N52N disc magnets

behind its clock face.

Thanks to the embedded magnets I can put any magnets and ferromagnetic objects on the clock face. There are small

ST-K-13-N steel balls

on the 3, 6, 9 and 12 o'clock positions and other small disc magnets on the other positions. Also, the colourful decorative items stay on the clock face thanks to the glued-on disc magnets. What's great about this clock is that you can always redesign it.
The entire content of this site is protected by copyright.
Copying the content or using it elsewhere is not permitted without explicit approval.