Make your own photo magnets
Two creative ideas for decorative magnetic photos
Online since: 08/11/2016, Number of visits: 403639
Photo magnets with magnetic paper
Materials needed
Scissors or alternatively a cutter knife, ruler and cutting mat
Inkjet printer
Computer with picture editor, e.g. Photoshop
Preparing the photos
Put together a selection of your favourite pictures for your photo magnets in Photoshop or another picture editor, e.g. Gimp or Coreldraw. Select DIN A4 photo size, 300dpi printing quality, and CMYK colour space. Use the space on the template and arrange photos in a space-saving manner. You can rotate photos for that purpose.
Photo magnets with self-adhesive magnetic sheet
Addition from Benjamin Graf (Switzerland):
I work with magnets often and come up with various ideas. This time I had the idea of transforming particularly beautiful photos into self-adhesive decorative objects that I could give away or sell.
These magnetic photos adhere nicely to metal surfaces such as a fridge or magnetic board.
Disclaimer: The idea for this project came from Mr Graf and was submitted to us. This fantastic application has now been updated by the supermagnete team, and new photos were added too. Thank you so much for this amazing magnet project!
Printing and "magnetising" the photos
It is easy to make these photo magnets yourself: Use the print assistant to print the images of your choice, ideally on A4 photo paper. Depending on the print quality, you could also print the photos on thick copy paper. The menu of the print assistant allows you to select the quantity and composition of photos. You can print, for instance, nine different photos or nine times the same picture. Then take a sheet of the
self-adhesive magnetic sheet MS-A4-STIC
, also available in A4 format, peel off the protective film and carefully press your printed photo paper onto the self-adhesive side.
Note from the supermagnete team:
You can find more tips and tricks for magnetic photos in the
Supermagnete chronology
application.
Photo magnets with self-adhesive magnetic tape
We carry
self-adhesive magnetic tapes
in various widths. These are also great products for making photo magnets. Print your photos in a size that matches the magnetic tape and cut them out. Remove the protective film from the magnetic tape and press your photo onto the adhesive. Then simply use scissors to cut the finished magnets out.
Tip: Gluing the photos on accurately is not that easy. However, unsightly borders can simply be corrected with scissors afterwards.
Magnetic adhesive tape or self-adhesive magnetic dots can also be used to easily hang photos. In this video, we will show you how it's done: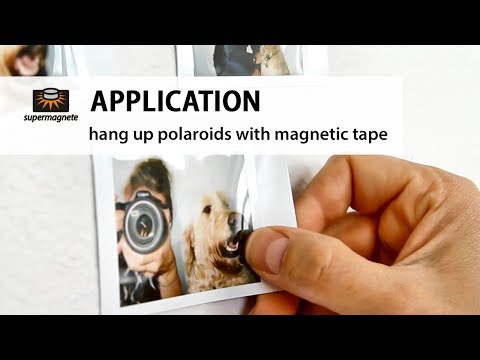 In our
handicraft guide
, you will find many more useful tips and tricks for making your own magnets.
And with our selection of photo magnets, many photo projects can be completed quickly and easily.
Discover photo magnets
The entire content of this site is protected by copyright.
Copying the content or using it elsewhere is not permitted without explicit approval.