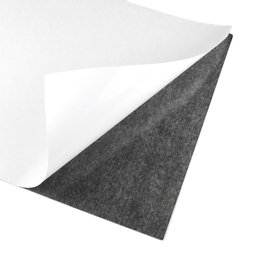 Self-adhesive magnetic sheet
A4 format, to cut & glue, grey-black
Description
Bestseller: Around 125 000 sheets sold!
This A4 self-adhesive magnetic sheet can be cut to the desired size and glued to the backside of objects to make them magnetic. A magnetic sheet consists of strontium ferrite and flexible plastic. The visible, magnetic side is dark grey to black. Self-adhesive magnetic sheet lends itself to
making your own magnetic photos for the fridge, magnetic board, magnetic paint, etc.
magnetically hanging up larger objects that require an increased adhesive force.
The self-adhesive magnetic sheet needs to be applied to and pressed on a suitable surface and allowed to rest. Otherwise, air pockets may appear and the sheet could come off. Please read our
FAQ about self-adhesive products
.
Read about more features and tips
Please note

The self-adhesive magnetic sheet is not a suitable surface for magnets. They would demagnetise the sheet. A better surface for magnets would be our magnetic boards and strips.
Technical data
| | |
| --- | --- |
| Article ID | MS-A4-STIC |
| EAN | 7640155430722 |
| Colour | Black |
| Size | approx. A4 (297 x 210 mm) |
| Thickness | 1 mm |
| Magnetisation | Anisotropic |
| Strength | 80 g/cm² |
| Shelf life adhesive | 6 months (approx.) |
| Weight | 230 g |