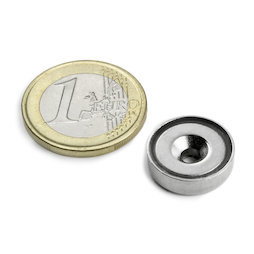 Countersunk pot magnet Ø 16 mm
strength approx. 4 kg
Description
Top seller: More than 2 800 000 sold!
This magnet in a steel pot has a countersunk borehole and can be fastened with a countersunk screw. It is one of our top sellers because it is versatile and can be used in many applications: In the lighting industry, carpentry, shopfitting, kitchen and bath installations. We also carry this pot magnet
with cylindrical borehole
.
The following screws fit into the CSN-16, for example:
Slotted countersunk wood screw: DIN 97 (3 mm)
Cross recessed countersunk flat head screws (machine screw): ISO 7046-2 M3 (3 mm)
Countersunk torx screws/hexalobular socket (machine screw): ISO 14581 M3 (3 mm)
Hexagon socket countersunk flat head screws (machine screw): ISO 10642 M3 (3 mm)
Read about more features and tips
Technical data