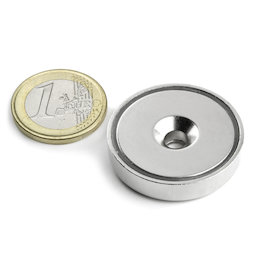 Countersunk pot magnet Ø 32 mm
strength approx. 30 kg
Description
Top seller: More than 1 100 000 sold!
This magnet in a steel pot has a countersunk borehole and can be fastened with a countersunk screw. It is built into many electronic devices. Additionally, it is often used in metal processing, mechanical engineering and construction as well as in shopfitting applications, making it one of our top sellers. We also carry this pot magnet
with cylindrical borehole
.
The following screws fit into the CSN-32, for example:
Slotted countersunk wood screw: DIN 97 (5 mm)
Cross recessed countersunk flat head screws (machine screw): ISO 7046-2 M5 (5 mm)
Countersunk torx screws/hexalobular socket (machine screw): ISO 14581 M5 (5 mm)
Hexagon socket countersunk flat head screws (machine screw): ISO 10642 M5 (5 mm)
Read about more features and tips
Technical data