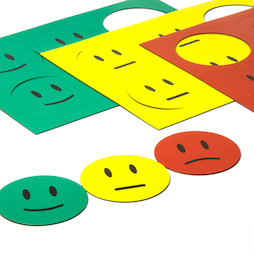 Magnet symbols Smiley
for whiteboards & planning boards, 6 smileys per A5 sheet, set of 3: green, yellow, red
Description
Large magnetic smiley symbols in three colours and moods. Made of colourful magnetic sheets they serve as eye-catchers or to highlight content on
whiteboards
, planning boards, and other magnetic surfaces.
In school, such smiley symbols may be used in behaviour charts. Students can see right away if their behaviour during class is appropriate.
The smilies are practical helpers in the office as well. On whiteboards and planning boards they can be used to illustrate the feasibility of projects or opinions during a brainstorming session.
Read about more features and tips
Please note

Magnets should not be placed on magnetic symbols, because they would demagnetise the symbols. Suitable surfaces for magnets are our magnetic boards or magnetic strips, for example.
Technical data
| | |
| --- | --- |
| Article ID | BA-016 |
| EAN | 7640155431224 |
| Pieces per sheet | 6 pieces |
| Quantity per set | 18 pieces |
| Size | 6 cm |
| Weight | 370 g/set |